With reports out now that Otters owner Bassin has had zero local investors interested in the team
rumours are once again out about a move out of Erie and with Bassins quotes there's more meat to the story now. Looking at the Otters franchise history there's a lot of indicators that their stay in Erie was due to end soon.
The Otters Franchise began in Windsor, ON as the original Spitfires. They were there for 7 years when they moved to Hamilton. They spent 24 years in Steeltown with 3 different names (and 1 year briefly in St. Catharines) before moving to Brantford for 6 years. finding no luck as the Alexanders they returned to Hamilton for 4 more years then drove down the QEW to Niagara Falls. 8 years in the Falls and it was off to Erie where the Otters have been for 17 years, but will they make it to 20? only 1 more year on the current lease, and the current owner says he wont sign long term deals.
So what's in the Otters future? With the lack of interest in Erie two options: outside ownership keeping the team in Erie and Relocation.
Staying Put - Erie, Pennsylvania
Population: 209,000 metro area.
Arena:
Tullio Arena
Capacity: 5500
Closest OHL team: Niagara IceDogs, 207km
Staying in Erie is an option for the new owners. Attendance the past 3 season has averaged 3,148 per game (3,476 10-11, 2,855 11-12, 3,115 12-13) with 11-12 season being the disaster year that got them Connor McDavid, and that's good for 13th in the OHL. Their arena has gone through upgrades the past off seasons and the city wants to keep the Otters in town after spending that money.
Buffalo, New York
Population: 1,135,509 Metro Area
Arena: No OHL size arena, JrA plays at Amherst Ice Center, NCAA at Buffalo State Sports Arena, NHL in First Niagara Centre
Capacity: 1,800 (JrA & NCAA arenas), 19,070 (NHL Rink)
Closest OHL team: Niagara IceDogs, 52km
Current Jr teams:
Buffalo Jr Sabres, Jr A - OJHL
,
Buffalo Blades, Jr B - GOJHL
Buffalo is a favourite choice of mine. Its a strong hockey city, the Sabres and JrA Blades have good attendance (okay JrA attendance isn't a marker for anything since the leagues at that level and below don't carry any prestige, but they average almost 200 people per game), and we'll pretend the JrB Sabres don't exist. Moving down the Erie shore to Buffalo would keep the team in the US, and plunk it in a town with love for hockey. I have spoken to a few people who regularly come to Niagara for OHL games. It brings them closer to the border and other OHL teams, and there is a JrA team in the city to use as a farm team (so you don't run short on goalies again). Average family income is about $40,000 per year, not quite friendly for being a season ticket holder, but out of 1.1 million people there should be 2,000 who are interested & can afford it, the Sabres also average 18,500 in attendance for the past 7 years. A new arena would have to be built to accommodate the team, there are no OHL sized arenas (3500-9000 seats) in Buffalo and with the city still paying off debt related to the construction of the First Niagara Centre I don't think they would be interested in tacking on another $40,000,000. Buffalo is easily connected with other OHL teams by the QEW just across the Niagara River.
Brantford, Ontario
Population: 135,501 metro area
Arena: Brantford Civic Centre
Capacity: 2,981
Closest OHL team: Kitchener Rangers, 44km.
Current Jr teams - None
Brantford, former home to the Brantford Alexanders (who, as noted above, later became the Erie Otters) for several years never held onto the OHL for a long time. A city whose name is brought up whenever relocation is mentioned, but never taken seriously. The Civic Centre hold almost 3,000 people and could do as a temporary arena, but is about 1,000 less that the standard and would require sell outs almost every night to stay afloat (The Niagara IceDogs call the Jack Gatecliff arena home, which holds 3,150 and average attendance is at the max capacity in Brantford - this rink is only temporary as a new 4,500 seat rink is under construction). The local economy isn't terrible but is becoming stagnant. Brantford hosts offices for Proctor & Gamble, SC Johnson, and Ferrero SpA (Kinder Eggs) but is facing challenges of being a minor city in Canada. The population isn't too small, and the average income is $42,601, not awful but thinking of $800 seasons tickets is still a long consideration. The Civic Centre would require upgrades in the hundreds of thousands of dollars to meet even the barest OHL standards, before considering expanding seating/adding suits to the civic centre or replacing it with a new building, which would be a challenge to a city with barely half a million dollars in surplus. Brantford would be easy travel to attract fans from Hamilton as they are just down highway 403.
Oakville, Ontario
Population: 182,250
Arena: Sixteen Mile Sports Complex
Capacity: 1,500
Closest OHL team: Mississauga Steelheads, 24km
Current Jr teams -
Oakville Blades, OJHL
Oakville, Ontario is city on the edge of the Greater Toronto Area with a midsized population, and bordered on both sides by cities with equal or greater populations. A mix of offices and commuters keeps housing development strong in the city and northern expansion. Average yearly income for the city is higher than average with $60,000, a salary that could support multiple games/season tickets to a junior team. What could hurt Oakville, and the next two entries (Burlington & Markham) is the heavy amount of commuters that reside in the cities. Travel in and out of town could hurt attendance of weeknight games, as well as proximity to the City of Toronto could have the "GTA Effect" which pretty much means that since the city is so close to Toronto there are more entertainment options available nearby for residents so the Jr. Team is lost in the options and seen as a last option, for example Mississauga has seen it's average attendance hang below 2,400 since the move from St. Michaels College and Bramptons last five seasons saw a peak of 2,400 but averages of 2,000. Another downside for GTA teams are a lack of local media, most cities don't have their own newspapers for daily reporting so getting the word out on the teams is a large challenge
Oakville also does not have an arena suitable for even temporary housing so shovels would need to be in the ground immediately as the Otters hang out in Erie for some lame duck seasons, or the franchise finds a temp. home in another city, like the
Adirondack Phantoms
. The Oakville Blades Attendance was about 600 per game last year, very good for Jr.A.
Burlington, ON
Population: 175,779
Closest OHL team: Mississauga Steelheads,
Current Jr teams -
Burlington Cougars, OJHL
(Cougars play at Wave Twin Rinks, capacity is >1,000 City website has no info on other arena capacities)
Burlington has a lot of similarities to Oakville, a mix of offices and commuting keep a lot of people employed average income is $50,000, and there is no current arena capable of hosting a Major Junior team. Burlington gets off a bit easier in that aspect since Hamilton is a short drive away and diehards could make the trip for games, but the weeknight games would suffer for the extra travel, especially with the QEW/403 such a mess leading up to game time. Burlington is bordered by Oakville and Hamilton so there are large populations to try and draw fans from.
Markham, ON
Population: 301,709
Arena: Markham Centennial Centre
Capacity: 2,500
Closest OHL team: Mississauga Steelheads, 50km.
Current Jr teams -
Markham Waxers, OJHL
Markham Ontario has a population that could easily support a Jr team, if it was farther away from Toronto. Markham is strong with youth hockey but has a serious case of GTA Effect going on as it shares a border with Toronto. Investors in Markham have their sights set higher than the OHL with efforts to build an NHL arena underway. A strong bedroom community has resident seeking entertainment within the bright lights of the big city or trying to draw such acts to their city. Markham Centennial Centre is barely big enough for a temp home and with the focus on the big show no one will want to build an OHL rink in the meantime. A team in Markham is setting itself up to be the next Battalion.
Chatham-Kent, ON
Image Search is not kind to Chatham
Population: 103,671 metro area
Arena: Chatham Memorial Arena
Capacity: 2,500
Closest OHL team: Sarnia Sting, 74km / Windsor Spitfires 77km (faster driving to Windsor via 401)
Current Jr teams -
Chatham Maroons, JrB - GOJHL
Chatham was brought up recently in the new with an unnamed OHL team approaching them for possible relocation. City Council is pondering either a new 5,000 arena on the St. Clair College campus, or renovating the memorial to 3,500 seats, the latter would not support an OHL team. It would be easy for Knights & Spitfires fans to attend as it's in between on the 401. The Memorial Arena could be a very temporary home but I would assume it would need at least a dressing room upgrade for a team. The prospects of a town barely over 100k in population could or would be willing to shell out for a new OHL rink is very low, and you would need about 5% of the population at a game each night to keep the team afloat. I believe Chatham will forever be the city used to tease relocation to get arena upgrades, never a serious consideration.
Niagara Falls, Ontario
most images of Niagara Falls don't include the city
Population: 390,317 metro area
Arena: Gale Centre
Capacity: 2,170
Closest OHL team: Niagara IceDogs, 21 km
Current Jr teams -
Niagara Falls Canucks, JrB - GOJHL
Niagara Falls is only on here because I would love to have a St.Catharines/Niagara Falls rivalry. Sharing a fair sized population in the Niagara Region with St. Catharines, would be risky for both as the local economies aren't terrible but aren't growing either. Niagara Falls was also home to the Otters right before they moved and two factors were attendance and the arena, neither of which are solved today. Niagara Falls was first offered the chance to host the IceDogs, but they did not want to expand the design of the Gale Centre from 2,000 seats, so it doesn't seem likely they would be willing to expand it in the future to split the region with the IceDogs. Also of note would be whether the IceDogs could protest/block a team from moving into the Falls & they would also have to change to the St. Catharines IceDogs to keep confusion low, a change they've been vocally against already.
Thunder Bay, Ontario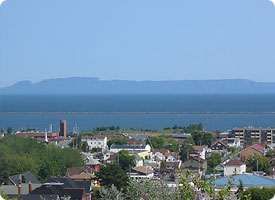 Population: 121,596 metro area
Arena: Fort William Gardens
Capacity: 3,630
Closest OHL team: Sault Ste. Marie Greyhounds, 700 km.
Current Jr teams -
Thunder Bay North Stars, SIJHL
Thunder Bay
comes up every few years
with a story of someone building a rink for an ECHL team or a Jr one. ECHL/AHL would maybe if their owner pays for flights but TB is 10 hours from The Soo, so 19 hours from most OHL teams. Those rides may fly in the WHL but we're more civilised here. (TB is also 10 hours from the closest WHL team, Brandon MB so the W isn't realistic either). Location kills any other considerations, but I wanted 10 cities for the list and picked one that would sound nice but there's no way anyone with the talent to withhold would even want to sign with a team there.
Population: 58,957 metro area
Arena: Cornwall Civic Centre
Capacity: 5,000
Closest OHL team: Ottawa 67's, 104km
Current Jr teams -
Cornwall Colts, CCHL
Cornwall is the former home of Memorial Cup champions Cornwall Royals and the AHL's Cornwall Aces. A small population that I would say can't make it work, but it is in line with North Bay, who just got an OHL team. Average income is a low $35,000. A stop on the 401 on the way to Montreal, it has an arena that could host an OHL team without any upgrades aside form a dressing room for the home team, which is a plus to anyone who may want to move a team here, but the economy and population may prevent that from happening ever again.
Cambridge, ON
Population: 126,748
Arena: Galt Arena Gardens
Capacity: 1,100
Closest OHL team: Kitchener Rangers, 18km.
Current Jr teams -
Cambridge Winter Hawks, GOJHL
Cambridge a good sized town a stones throw from the Rangers barn, they were home to the Galt Black Hawks/Red Wings/Canadiens and have one of the most beautiful rinks in the province. Galt Arena Gardens is 92 years old and not capable of going above Jr A level, and currently hosts the JrB Winter Hawks. Located just south of Kitchener it's really much to close to the territory of the diehard Rangers fans, but makes a good segue into...
Waterloo, ON
Population: 477,160 metro area
Arena: Waterloo Memorial Recreation Complex
Capacity: 4,132
Closest OHL team: Kitchener Rangers, 10km.
Current Jr teams -
Waterloo Siskins, GOJHL
Waterloo is one people will dismiss quickly but I do think it would work, with a fan cycle following the OHL players one. Putting a team in Waterloo would be like Brampton/Mississauga again where if the coach is mad about a loss he could make the players walk back to their home rink from away games. BUT the difference here is K-W is a strong major junior area with the Aud averaging just over 6,000 fans. These are diehard fans and getting tickets can be near impossible some nights, having been establish in the community for 50 years.
What a Waterloo based team should have is 1) proximity to the universities 2) undercut Rangers tickets by a couple bucks 3) have a section for students reserved and release a hundred as game day walk ups for discounts with student cards like the Penguins do. Identify themselves with the students. Let the Rangers have the locals and go hard after the students & those moving into town for work. They would need great sales reps and marketing because they would be getting new potential fans in every year. You would also have locals who either want easier access to games or are the usual rebels who will jump ship to the new team because they are new. And make games vs the Rangers "double platinum" to gouge the Rangers fans who will try to invade your rink. The K-W region has double the population of most markets and while the Waterloo Hurricanes only lasted two seasons in the 50's, much has change since then for Waterloo and I believe they would be able to host an OHL team, smaller profile than the Rangers, but stable. The current JrB arena has the capacity to host OHL with small expansion for a couple suites and a few hundred more seats.
And finally, the most obvious choice:
Hamilton, ON
Population: 721,053 metro
Arena: Dave Andreychuk Mountain Arena & Skating Centre 2,500 / Copps Coliseum 17,383
Closest OHL team: Mississauga Steelheads, 48km.
Current Jr teams -
Hamilton Jr red Wings, OJHL
Hamilton is always associated with the Otters moving.
The Bulldogs owner has said he would like an OHL team
. The biggest drawback is Copps. Too big for anything but an NHL team. However in a recent interview he has said he would be willing to help pay for a "6-10,000 seat arena more suited to AHL/OHL hockey.". The question he himself raised was, could both the AHL & OHL survive in the same city? The Bulldogs are averaging 4,000 per game which is good for minor/junior leagues but with more than twice as many tickets available for the Bulldogs, the appetite doesn't really seem to be there for two teams. The Bulldogs affiliation with the Montreal Canadiens is expiring in a few years and the always there rumours of moving their farm team closer to Montreal perhaps dumping the AHL for the OHL could actually boost attendance. The most important thing for junior hockey is for people to identify the team with their city. Something else missing from GTA cities is the feeling "this is my town", having the options to go somewhere else for whatever you need can hurt that. Hamilton & the Golden Horseshoe has lots of Maple Leafs fans who won't support the Canadiens affiliate, but and a Junior Team that represents nothing but Hamilton could lose that stigma of Habs-ness and bring more people to the rink to cheer for "their" team.
So to sum up, everyone but Brantford, Waterloo, Buffalo, and Hamilton do not have arenas that could currently host an OHL team, using 3,000 seats as the minimum. Buffalo & Hamiltons arenas are way too big for the OHL on a permanent basis (ask 67's fans how the atmosphere in ScotiaBank Place is) Waterloo has the capacity now to be comfortable without major renovations, and Brantford could do it, with grumbling for more right away.
I would prefer to see the Otters stay where they are in Erie, but if no one wants to keep them there, they are faced with the task of finding a new home city and home arena.
Of the 11 possible new markets for Erie I would rank them as below:
1)Hamilton
2)Waterloo
3)Buffalo
4)Brantford
5)Oakville
6)Burlington
7) Niagara Falls
8)Cornwall
9)Chatham-Kent
10)Markham
11)Thunder Bay
Most of these cities have already hosted an OHL team (or two) but there really isn't many more markets than them to choose from (aside from Thunder Bay, which LOLNope). I think the OHL has maxed out at 20 teams so we'll just be shuffling the franchises around as needed.